You are creative. Everyone is.   
How do you create?  
During middle school art class, I was not at all good at drawing bowls of fruit. From this I deduced that I was not creative. I hope that was not the message my art teacher was trying to convey. I have since learned I am creative in other ways: connecting with children, using metaphors, building PowerPoint decks. These are all part of my work. These forms of creation all have a purpose.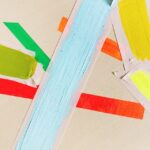 Sometimes I create "purposeless" art. I refer to this as 'art for the recycling bin.' 
How do you feel about creating a temporary work of art? Start with various kinds of paper, add color (pens, markers, paint, etc) and ways to connect (tape, glue, stapler). Build something. Decorate it. When you are done take a little time to admire your creation. Then put it in recycling.